Y&H Webinar: Building Vaccine and Screening Confidence Training Programme
The purpose of these workshops are to provide skills training that can be utilised to combat disinformation and providing reassurance and confidence for Flu & Covid Vaccines. 
Building on the success of the Covid-19 Vaccination Webinar workshops responding to vaccine hesitancy, we have commissioned a further round of workshops to support both Flu and Covid-19 winter vaccination campaigns. These are aimed at trusted community champions and those in both public and patient facing roles where there is an opportunity to Make Every Contact Count.
We particularly wish to target participants who come into contact with low vaccine uptake populations, including: areas of high deprivation, ethnic minority groups, parents of 2&3 year olds and those in at risk categories.
PLEASE NOTE THAT WEBINAR IS ONLY SUITABLE FOR COLLEAGUES THAT HAVE NOT ALREADY UNDERTAKEN THE 'BUILDING VACCINE CONFIDENCE WEBINAR' AS MUCH OF THE CONTENT WILL BE THE SAME.
Concept and Objectives
There is concern that due to low flu circulation last winter and potential opinion that Covid-19 vaccination is more important, uptake of flu vaccination may not be as good as previous years. We also know that over 1 million adults in North East and Yorkshire are unvaccinated against Covid-19.
Vaccine hesitancy amongst eligible populations is a risk to population health and negatively impacts our poorest communities. The everyday conversations we all have are powerful, therefore the provision of skills training that uses the principles of Making Every Contact Count (MECC) and Motivation Interviewing (MI) can combat disinformation and myths while providing the necessary reassurance and confidence in safe and effective vaccines.
The skills training covers:
How can we work together to build vaccine confidence, what we know and how this links to health inequality
Core skills and processes (OARS, Evoke-Provide-Evoke, Decisional Balance, and the 3As)
Skills practice – Building confidence in the vaccine
Resources that staff can use to respond to questions and concerns
The session will be interactive and include modelled conversations that showcase the core skills and processes being used. The application of this work can be far-reaching. Although this is focused on Flu and Covid-19 Vaccinations, these skills can be utilised for childhood immunisations, cancer screening and other health-promoting activities
This provision has been funded by NHSEI as part of North East and Yorkshire Winter Vaccination Programme and will be delivered in partnership with the Office of Health Improvement and Disparities. 
Booking Details
We will be running these workshops from 12th September 2022 up until 10th January 2023, please see further booking details and dates below. 
September: 
Monday 12th September, 10am-11.30am - FULL
Tuesday 13th September, 2pm-3.30pm - FULL
Wednesday 14th September, 9.30am-11am - FULL
Thursday 15th September, 3pm-4.30pm - https://www.eventbrite.co.uk/e/377246583687
Friday 16th September, 10.30am-12pm - https://www.eventbrite.co.uk/e/377247165427
Monday 19th September, 1pm-2.30pm - https://www.eventbrite.co.uk/e/377248138337
Tuesday 20th September, 10am-11.30am - https://www.eventbrite.co.uk/e/377249492387
Wednesday 21st September, 3.30pm-5pm - https://www.eventbrite.co.uk/e/377250084157
Thursday 22nd September, 1.30pm-3pm - https://www.eventbrite.co.uk/e/377254336877
Friday 23rd September, 1pm-2.30pm - https://www.eventbrite.co.uk/e/377254988827
Tuesday 27th September, 11am-12.30pm - https://www.eventbrite.co.uk/e/377255490327
Wednesday 28th September, 3pm-4.30pm - https://www.eventbrite.co.uk/e/377256152307
Thursday 29th September, 9.30am-11am - https://www.eventbrite.co.uk/e/377256754107
October 
Wednesday 5th October, 2pm-3.30pm - https://www.eventbrite.co.uk/e/377257275667
Thursday 6th October, 10am-11.30am - https://www.eventbrite.co.uk/e/377257817287
Monday 10th October, 1.30pm-3pm - https://www.eventbrite.co.uk/e/377258208457
Tuesday 11th October, 10.30am-12pm - https://www.eventbrite.co.uk/e/377258870437
Thursday 13th October, 3pm-4.30pm - https://www.eventbrite.co.uk/e/377259532417
Monday 17th October, 1pm-2.30pm - https://www.eventbrite.co.uk/e/377260344847
Wednesday 19th October, 9.30am-11am - https://www.eventbrite.co.uk/e/377261608627
Friday 21st October, 11am-12.30pm - https://www.eventbrite.co.uk/e/377262240517
Monday 7th November, 12.30pm-2pm - https://www.eventbrite.co.uk/e/377262802197
Thursday 10th November, 3pm-4.30pm - https://www.eventbrite.co.uk/e/377263333787
Tuesday 15th November, 10.30am-12pm - https://www.eventbrite.co.uk/e/377264116127
Friday 18th November, 1.30pm-3pm - https://www.eventbrite.co.uk/e/377266112097
Wednesday 23rd November, 10am-11.30am - https://www.eventbrite.co.uk/e/377267676777
Thursday 24th November, 2pm-3.30pm - https://www.eventbrite.co.uk/e/377270214367
Monday 28th November, 3.30pm-5pm - https://www.eventbrite.co.uk/e/377271548357
Tuesday 29th November, 11am-12.30pm - https://www.eventbrite.co.uk/e/377272531297
December
Thursday 1st December, 9.30am-11am - https://www.eventbrite.co.uk/e/377275058857
Wednesday 7th December, 1pm-2.30pm - https://www.eventbrite.co.uk/e/377276422937
Friday 9th December, 10.30am-12pm - https://www.eventbrite.co.uk/e/377277847197
Monday 12th December, 10am-11.30am - https://www.eventbrite.co.uk/e/377280485087
Tuesday 13th December, 2pm-3.30pm - https://www.eventbrite.co.uk/e/377282571327
January 
Thursday 5th January, 1pm-2.30pm - https://www.eventbrite.co.uk/e/377283654567
Tuesday 10th January, 10.30am-12pm - https://www.eventbrite.co.uk/e/377284547237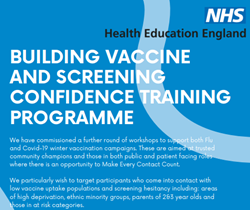 Share with friends