Promoting Emotional Health and Wellbeing and Preventing Suicide: A resource for Care Home Settings
People can be at risk of suicide at any age, including in later life. Data shows that rates of suicide actually increase in later old age, particularly for men. It is therefore important that those working with older adults understand the potential risks for this age group and how to respond to people who may express suicidal feelings, or if a suicide were to take place.
We have developed this resource in response to a suicide in a care home, to offer further information and best practice advice around prevention of suicide, intervention with those at risk and action to take following a suicide (postvention).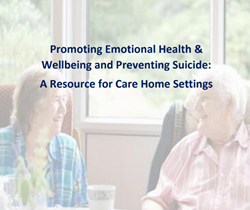 Share with friends